Now in its 19th year, the Blue Book is the most comprehensive market guide for office support and administrative roles in the industry. 
The Blue Book covers everything from industry-specific salaries to benefits, desirable working environments, interview practices, temporary versus permanent roles – as well as comparing attitudes between employers and employees.
In addition to detailed analysis of the employment market from both employees, employers, and senior recruitment consultants, in this year's Blue Book, we explore three key emerging trends: 
Hybrid Working – The rapid rise and changing landscape of hybrid work models
Talent Attraction – The changing landscape of talent attraction in a high-inflation economy
Employee Retention – The renewed importance of staff retention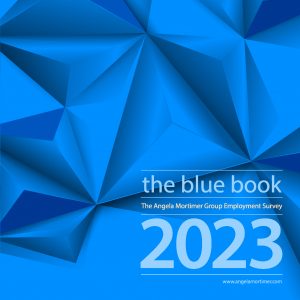 Key Trends from 2023's Blue Book
Second only to employee wellbeing at 71% of responses, employee retention ranks as one of the top three areas of focus for 63% of the surveyed employers in their 2023 HR agendas, compared to 46% in 2022. 

At 33% of responses, salary was overwhelmingly the reason why candidates declined offers. Organisational culture and perceived work/life balance trailed at 23% of responses.

While 68% of businesses believe that working from home makes no difference to employee productivity, candidates are divided, with 36% believing they are most productive at home, 31% at the office, and 32% stating it makes no difference.
How to Get Your Copy of the Blue Book
Existing Clients
Please make direct contact with your Angela Mortimer Consultant and request a copy of this year's edition or call 020 7287 7788.

If you are not yet connected with anyone at the Angela Mortimer Group, please fill in your details below, and one of our friendly team members will be in contact shortly.
Agency worker regulations
International Women's Day